A Fulldome Dive into the Ocean Environment
A wise producer once said two topics are particularly suited for the immersive dome environment: outer space and underwater.
At FULLDOME OnDemand we have them both covered with great titles you can rent anytime you like. For users looking for a trip to the oceans, we have Oceans in Space and Into the Deep. Now, we've added a wonderful new show that takes you beneath the waves for a look at the fascinating realm of the reefs: Underwater Fantasy.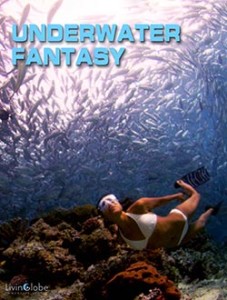 This latest release from LivinGlobe Immersive Spaces takes you on a hypnotic visit with the denizens of the coral reefs: corals, fish, turtles, and eels. During the show, a world-record-holding free diver — Ai Futaki — makes several appearances, bringing an ethereal human presence into the ancient home of so many of Earth's most fascinating life forms.
Underwater Fantasy is a wonderfully relaxing tour of the sea, presented with only evocative music to accompany the peaceful environment of the ocean. When I first saw this show, I thought of all the aquarium tanks I've ever seen, wishing I could get in and swim with the fishies and turtles. If you've ever snorkeled or done any scuba diving, you already know about the languid feel of being one with the ocean as you explore. This show really takes you there, in glorious HD video, artistically enhanced to fill the dome space.
The show is nearly 49 minutes long in its full version. And, we've also made it into three 17-minute segments too, so you can slot a quick trip to the reef into busy presentation sessions if you desire. Consider Underwater Fantasy as part of a lesson on sea life and oceanography. It also makes a great entertainment choice, whether you use the long or the short versions in your dome. We're pleased to make it available exclusively on FULLDOME OnDemand for you and your audiences!