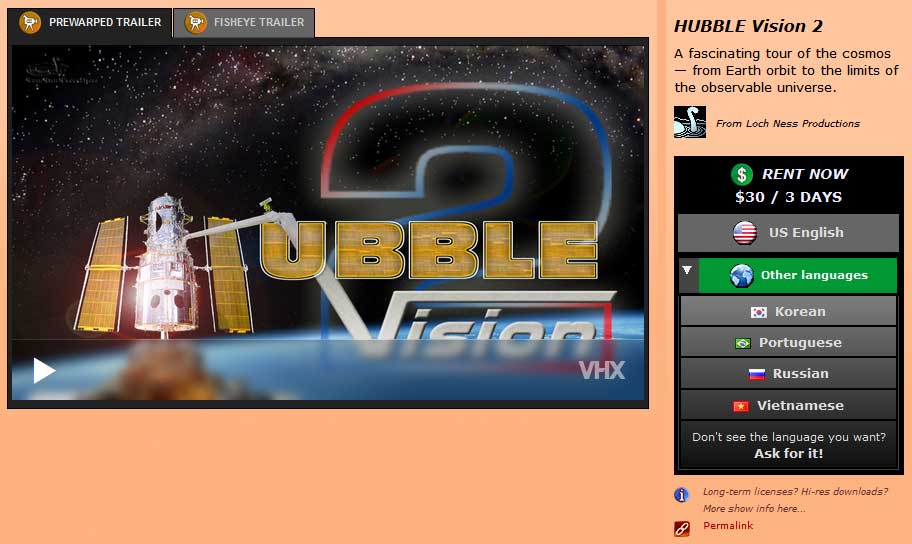 Now that we have most of the fulldome shows in our distribution catalog available for rent on FULLDOME OnDemand, we're turning our focus to the requests we've gotten from our international customers for shows in their languages.
There are currently more than 40 fulldome titles on our service. For each one, we make the show and the trailer available, in both prewarped and fisheye formats. When you start to consider other languages, some titles have ten or more translations. In all the formats and versions, well… it's a ton of movies to encode and upload! For now, we're asking FULLDOME OnDemand users to help us prioritize what we work on first.
When you select any show page on FULLDOMEOnDemand.com, you now see two choices below the "RENT NOW" button: "US ENGLISH" and "OTHER LANGUAGES". Selecting either one gets you the menu of the shows we have posted already. If you see the language you want, great! Rent and stream it!
If not, select "Don't see the language you want? Ask for it!" for a quick fill-in form to let us know you are interested in renting it. If the show exists in the language you want (and we can get it), we will post it as soon as we can and send an email letting you know it's ready to rent. It really is Fulldome On Demand!
We're just starting out with this service, of course. We always planned on expanding the repertoire to include international titles, as well as some shows from producers we don't already distribute.
Thanks for your support!